CLASSES
Private Classes are an option for groups who want to get together to have fun and explore different topics.
Interior Design 101 (Home Decorating, Part 1) and Interior Design 201 (Home Decorating Part 2) are presented in two-hour classes for four weeks.
Feng Shui is offered in two or three-hour sessions.
Organization can be done in two to three-hour blocks of time for up to six weeks.
Home Staging is taught either as a three-hour "crash course" or a four-week program.
Drop me a note if you'd like to discuss any of these options.

Hosted Classes are also offered through East Penn, Lower Macungie Township and Upper Macungie Township. Check back here for upcoming dates.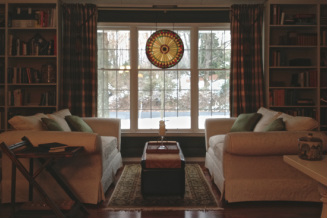 SERVICES
INTERIOR DESIGN & REDESIGN
a full range of services including:
color consultations
helping you decide what colors, fabrics and "feel" you want for your home
suggestions for furniture and accessory purchases
reworking your current furniture and accessories to better fit your space
decorating for both you AND your significant other
color coordinating
helping you overcome your fear of color and pattern matching
making your home reflect and work for YOU
establishing your style with the things you love
creating a style that's comfortable for you and your family

HOME STAGING
presentation plays a significant role in a buyer's first impression of a home; this is especially critical in todays real estate market
included in staging are:
"setting the stage" so that your home sells even though there are newer homes on the market
presenting your home in its best light
the all-important first impression
learning how to repurpose what you already have
de-cluttering and organizing
learning how to visually increase the size of your home
determining what items to get rid of or store
recognize what potential buyers want to see when they're in your home
looking at your home with a critical eye and thinking like a buyer
learning how to gain a competitive edge
according to figures released by AAA, de-cluttering, cleaning and staging your home prior to selling has a 586% ROI (return on investment).

ORGANIZATION
kitchens * bathrooms * closets * offices * bedrooms
identifying why you're hanging on to too many things
empowering you to make the changes necessary to get organized
learning how to make your life clutter free
recognizing that there's a lot more to life than taking care of stuff
learning to live with what you love or need (my two criteria for having something taking up space in your home)
creating serenity

I look forward to working together!
Kay
---